MyHeritage
has come up with a list of the "
Top 100 Genealogy Sites
," and has included TransylvanianDutch among its honorees. We are pleased to wear the below badge.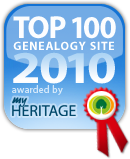 Their naming of the list is slightly misleading. From their list, it's obvious their focus, with some exceptions, was on genealogy bloggers. (I wouldn't expect to be listed on a top-100 list if the list wasn't focused on bloggers.) And when they say in their description
"We put a focus on finding hidden gems in the community, so there's a good chance that some of these are sites you won't have seen before."
They mean they left out of their selection the not-so-hidden gems. Which explains why several top-name genealogy bloggers aren't on the list.
Regardless, I am still honored to be in their list. I played around with their
facial recognition
software a lot a couple years ago.